Book:
Looking Good
by Nancy Nix - Rice; Out of publication; Available used (and "unused" but still from 1996) at Amazon.
Nancy Nix Rice's steps for building a capsule based wardrobe:
Step 1
Find a print garment or scarf to tie 2 solids together, and maybe add a 3rd solid. I.E. Red/Royal/Black print 2 piece dress in pic. Gives you 6 combinations with black pants added.
Step 2
Pick another solid color from that print and repeat it in basic pieces. I.E. royal blue skirt and matching soft knit jacket. Adds 8 new looks.
Step 3
Add other basics that could extend the capsule. Each piece should should work at least 3 ways.
Here added a black turtleneck to make 16 combinations,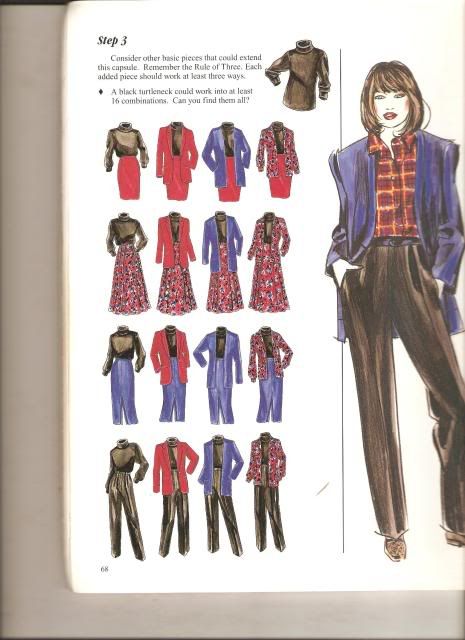 and a mini tartan plaid shirt, for 12 more combinations!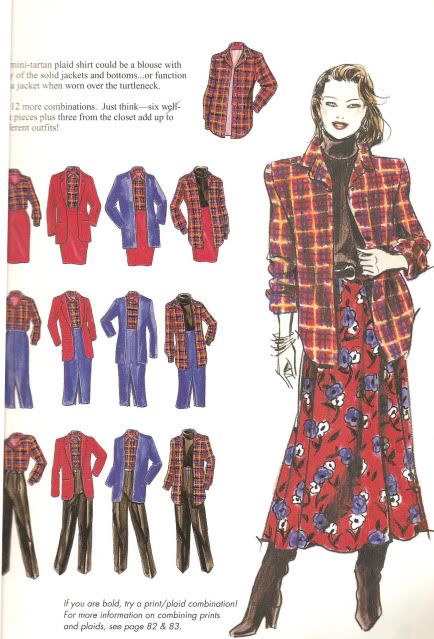 Step 4 Accessories
Include accessories to pull each look together - black pumps, black loafers, sheer off black hose, black belt, black bag, jewelry that coordinates.